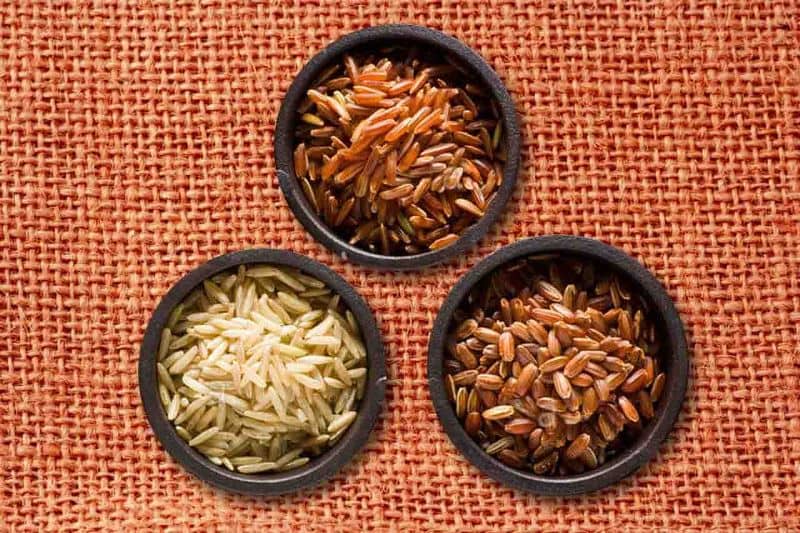 Brown Rice or White Rice -Take Your Pick!
20-07-2017 | Posted By: Shagun Parasher |
1923 View(s)
You might have heard and read that Brown Rice is healthier than White rice but how many of you have experienced it? If you haven't, Read on to discover.
Let us talk about the basics first. Rice is a cereal grain and the most widely consumed staple food for a large part of the world's population. They are mostly consumed in Asia. The World Rice Production will be 481.04 million tonnes, says United States Department of Agriculture (USDA). India is the third largest producer of this crop, and 106 million tonnes of rice was produced last year.
Rice is the seed of crop species of Oryza sativa or Oryza glaberrima. It is a monocot and mostly grown as an annual crop. Its production suits the regions with high rainfall. Rice crop can be grown practically everywhere, on plains or mountains but that piece of land should have ample supply of water.
There are 40,000 varieties of rice found worldwide. Four major categories of rice are;
• Indica
• Japonica
• Aromatic
• Glutinous


The types most commonly consumed are African, Australian, Bangladeshi, Burmese, Cambodian, Canadian, Chinese, French, Greek Indian, Indonesian, Iranian, Italian, Japanese, etc. These varieties have many sub-varieties that it's hard to list down all at once.
One of the most talked subjects is whether Brown Rice is healthier than white rice or not. Keep reading to discover it yourself.
Does Brown Rice Deserve all the Love?
All varieties of rice that are produced and harvested initially are in the brown form, or should we say in the "healthier form"? There is a lot of discussion regarding what is more healthy, Brown Rice or the White Rice. Most researchers prove that Brown variety is more beneficial than white. But on what basis are these researches done and to what extent are the facts true? You need to find out?

Difference between Brown Rice and White Rice
1. Brown Rice vs. White Rice: Basics
All parts (Bran. Germ and endosperm) are present in brown variety. Only the inedible outer layer is removed. This means that they are rich in nutrients, vitamins and fibre as compared to their counterpart. But, this can be bad too as they contain a load of fibre which makes their digestion hard.
White rice, however, is prepared by removing the germ and bran. It only consists of the endosperm layer. They are processed and polished to reach that amount of shine. It indicates that they have lost the maximum of nutrients such as mineral and vitamins, antioxidants and fibre when they are on your plate. This makes the consumption of White Rice an unhealthy choice.
2. Nutritional Contents
The nutritional content given below is of per 100g portion.


The exact nutritional quantities can vary due to manufacturing. Ensure to read the food label on the rice that you buy.
3. Which one is right for Diabetics?
Brown Rice is low in glycemic index (GI) while White Rice is comparatively high because they have a great value of carbohydrates. This makes consumption of white rice not good for people with diabetes. People who can't stay without white rice should either cut down the rice intake or eat basmati rice. The GI of basmati rice is similar to that of Brown Rice.
4. Anti-Nutrients?
The bran of brown rice that is removed contains phytates. Phytates have the ability to bind with nutrients like zinc, magnesium and calcium. This binding action prevents the absorption of these nutrients by the body. This, therefore, acts as an anti-nutrient. Brown Rice can also make it uneasy for us for absorbing other healthy nutrients from foods that we eat and can cause a nutrient deficiency in your body in the long run.
5. What is Good for Weight Loss?

Whole grain foods are good for people who want to shed some kilos. Brown rice is made up of essential minerals, vitamins, proteins and fats. This makes it healthy for your heart. They also contain a high fibre content which makes the bowel movement easy. Also, Brown Rice is known for providing satiety to a person and controlling the calorie intake. All this in turn aids weight loss.
White rice, however, being comparatively high in carbohydrates and low on fibre is almost free from phytic acid. These are present in rice in starch form. De-starching rice is a healthy way to reduce the "unhealthy" effects of white rice. De starching is helpful for people who wish to lose weight. For those, who can't eat brown rice should cut the intake of white rice by a little.
De-starching White Rice:
Wash the rice with plain water and put it on the flame. Cook the rice with water till it becomes tender. After the rice is cooked drain out the excess water that is nothing but starch.Doing so makes the rice get rid of the fat content.This is turn also makes the rice act as a filler and is easy to digest as well.

6. Arsenic Content.
Brown rice is reported to have a significant amount of arsenic. The white variety has fewer folds of arsenic. Arsenic is a toxin which is known for causing cancer of lungs, kidney, liver and bladder. Arsenic is a naturally occurring mineral, but the pesticides and chemicals tend to make it harmful for consumption.White rice, especially the basmati and jasmine variety has lower levels of toxic arsenic.
7. Which Rice has more Fat?
Both of the rice varieties have little fat. White rice, often considered unhealthy and fattening contains a lesser amount of fat as compared to its sister counterpart. A cup of white rice contains approximately 1g of fat while brown rice contains 3g fat. So, white rice is nowhere fattening and unhealthy.
8. Which one is more Digestible?
White rice is more digestible than the brown variety. Since the Brown Rice is whole grain form, it consists of maximum nutrients. They are also rich in fibre which makes their digestion very difficult. People with a weak stomach should go for white rice.
9. Which rice strengthens your Bones and Teeth?
Brown Rice has the highest amount of minerals. It consists of essential nutrients that are meant to make the bones and teeth strong. White rice, because of processing has a limited supply of nutrients. Brown rice takes the leads in this one.
10. Inflammatory Nature
Brown rice is rich in antioxidants which are known for their anti-inflammatory benefits. They help in curing everything from asthma to arthritis. These antioxidants are widely present in the brown variety, and therefore they are comparatively better than the white one.
The Verdict:
There does not seem to be much of a difference between the two.None of the varieties are perfect. Both of them have their risks and benefits. Brown rice, even being a whole grain, isn't the purest form of rice. It does consist of certain compounds that might be harmful to the people who consume them. Although in some cases, the benefits of Brown and white rice could be the same for instance, brown rice has low GI index, and this makes their consumption good for people with diabetes. However, the GI index of Basmati and Jasmine rice is nearly equal to the brown variety.
There does not seem to be much of difference between the two.None of the varieties are perfect. Both of them have their risks and benefits. Brown rice, even being a whole grain, isn't the purest form of rice. It does consist of certain compounds that might be harmful to the people who consume them. Although in some cases, the benefits of Brown and white rice could be the same for instance, brown rice has low GI index, and this makes their consumption good for people with diabetes. However, the GI index of Basmati and Jasmine rice is nearly equal to the brown variety.
Brown Variety is beneficial in many ways, but it's not like that the white rice is harmful or just say, unhealthier. Its science and "one size fits all" doesn't apply here. It depends on the preferences of taste, situations, concerns of a person and the budget. Remember that the degree of absorption varies from person to person. Something that suits you can have an adverse effect on the other. One should eat something that appeases their taste buds and fulfils their hunger. It's your tummy; you get to decide what you wish to you (keeping your health a priority, of course). Stay Happy and Healthy