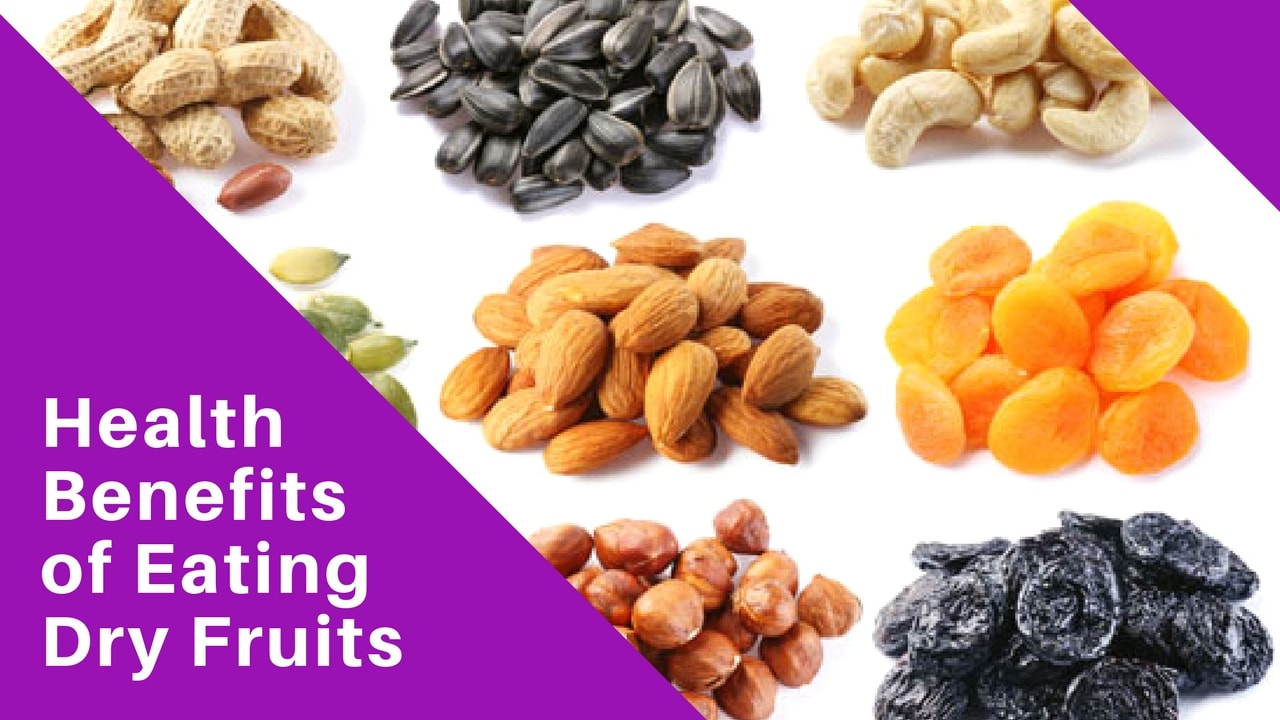 Discover the Numerous Health Benefits of Dry Fruits
28-12-2017 | Posted By: Harneet |
2134 View(s)
Come winters and dry fruits help us to fight against the winter chill. The northern regions of our country experience extremely harsh weather conditions and people look for alternatives to beat the cold wave. Dry fruits provide not just the warmth but contain numerous other benefits as well. From being heart healthy to being good for digestive system, these dry fruits are the powerhouse of nutrient blessings from Mother Nature to her children.The many Health Benefits of Dry Fruits makes them irresistible and should be part of every person's diet.
Some of the Most Popular  and the Numerous Health Benefits of Dry Fruits are as under:

Almonds:Loaded with 576 calories per 100 grams serving, the almonds boast of being the king of dry fruits. Almonds have vitamin E, phosphorus, calcium and niacin among other valuable nutrients. Our forefathers realised the value of this medicinal fruit -The almond tree and gave us Rogan Badam oil, almond milk and other recipes for boosting our body and mental health. The riboflavin in almonds helps both growing children and the ageing population. It also has a lot of other benefits such as:
● Regulation of bone and teeth health while keeping diseases like osteoporosis at bay.
● It Regulates the low-density cholesterol levels in the blood.
● The flavonoids and vitamins reduce arterial plaque development and control homocysteine levels.
● It reduces the free radicals and promotes a healthy body.
● Being rich in fibre, it helps overcome constipation and excess body weight.
● An extremely beneficial outcome of eating almonds during pregnancy is that it reduces instances of neural defects and boosts tissue growth. So for a mom-to-be and her fetus, the Almonds prove to be a boon in disguise.
● The almond oil is a good idea for baby massage and skin care. The supple skin and shiny black hair are natural outcomes of using this oil.
● According to Ayurveda, the almond boosts sperm count as well as helps in sustaining sexual vigour. In women, heavy menstrual flow can be regulated by usage of this dry fruit.
● The almond oil is also beneficial in treating issues like dandruff as well as stretch marks.
Looking for a Doctor? Find The Best Doctors Nearby
Raisins: The dried grapes are used to make this delicacy and is a popular ingredient for halwa and kheer. Blessed with an antacid property, it helps to keep your stomach healthy.
● Lower levels of insulin make it best for consumption by diabetic patients.
● Controls blood pressure and cholesterol levels. Raisin is especially recommended for low blood pressure.
● It protects against winter infections.
● It removes waste from the body and promotes kidney health.
● Insomniacs can benefit from the iron content for a good night's sleep.
● Arginine Content of raisin promotes sexual health and helps to overcome erectile dysfunction.
Cashew Nuts: With 553 calories in 100 grams serving, the cashews are the twins of almond in providing the health benefit.
● Healing properties in cashews help keep your skin supple and are natural tan removers.
● Muscle spasms and headaches can be treated with cashew nuts.
● Cashews boost melanin production and help bid goodbye to grey hairs.
● Natural protection against UV light is provided by the Zea Xanthin and helps eyes to stay healthy. Also, chances of cataracts are reduced considerably by consumption of Cashew Nuts.
Keep Reading to Discover the Numerous Health Benefits of Dry Fruits……!

Walnuts: They are known as Brain Foods because of its resemblance to the Brain.It has 190 calories per 30gms.Wallnut is a good source of
calcium, iron, magnesium, phosphorous, potassium, sodium, zinc, copper, manganese, and selenium.
Vitamins include vitamin C, thiamin, riboflavin, niacin, pantothenic acid, vitamin B6, folate, vitamin B12, vitamin E, vitamin K, and vitamin A. Carotenoids found in them include beta-carotene, lutein, and zeaxanthin.Enriched with vitamin E and antioxidants, walnuts are good for your brain as its flavonoids help fight ageing conditions like dementia and Alzheimers.

•Improve Heart Function
•Boost Bone Health
•Improve Metabolism
•Helps regulate Sleep-Eating walnuts soaked in water before sleeping is known to Induce and regulate Sleep
•Helps to Control Diabetes
•Walnuts fight cancer cells through the nutrients like ALA and melatonin.
•The antioxidants ward off free radicals from the body. This makes you stay youthful and glowing.
•Biotin in the walnuts helps strengthen the hair.
Dates: Dates are natural anaemia fighters with its abundant blessings of iron. Apart from easing digestion, dates are an instant source of energy-boosting sugars like fructose.
● Dates aid in digestion as well as in controlling diarrhoea.
● Suitable for pregnant women and assist in cervical dilation.
● Rich in potassium, dates help with staying young and fit.
● Helps Fight hangovers
● Dates also help to fight heart ailments
Figs: Rich in fibres the figs help to keep stomach Healthy.Hypertension relief along with aphrodisiac properties keeps figs top on the health watchers diet list. Its exfoliating nature keeps skin shining.
Prunes: Those suffering from arthritis can benefit considerably from prunes. Vitamin C rich dry fruit helps against collagen damage as well as bone health. The prunes are good for pregnancy-related diabetes and onslaught of osteoporosis.
So Now you must have become aware of the many Health Benefits of Dry Fruits and you need to try these delicacies to reap the numerous Health Benefits of Dry Fruits.Once you do that it will become a part of your routine and it will be difficult to stay away from them.So keep eating dry fruits to stay Healthy and Fighting Fit.