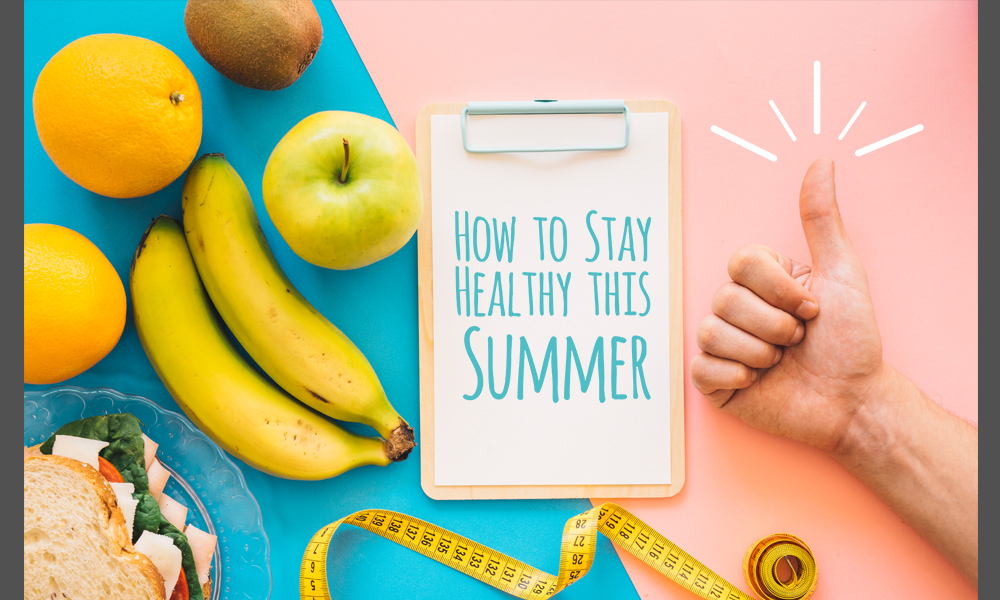 How to Stay Healthy this Summer?
25-06-2018 | Posted By: Chhavi |
10497 View(s)
Summer is here, and the weather is getting hotter day by day. It is the season to flaunt swimsuits, enjoy pool parties, and have a gala time. But amidst all this fun, one should not forget about one crucial thing, and that is our health. Sure, the summer season is a lot of fun, we don't have to cover ourselves in a quilt protecting from the cold weather, we don't have to resist going outside due to cold wind. We can play basketball, do swimming, and flaunt our skin in a gorgeous dress in the summers. But we must take care of our health too because along with all the fun, summer season brings a host of diseases too. Here are some of the best tips to stay healthy this summer.

What are The Best Ways to Stay Healthy this Summer?

1. Feel Thirsty? Drink Something Healthy
It is summer, and it's best to quench our thirst with water or other healthy drinks such as lemonade, coconut water, smoothies, and fresh fruit juices, rather than drinking soft drinks and packaged fruit juices. Beverages like juices, sugared iced tea, and soda are high in calories and low in nutritional value. It is best to avoid these beverages and drink water to stay hydrated. Drink three to four litres of water every day to prevent dehydration.
2. Eat, but Not When you are Thirsty
There are times when we mistake thirst for hunger, and that is exactly how we end up consuming more calories. When you feel hungry, you should drink a glass of water. Don't eat when you are thirsty, because it will add the daily calories you consume and can make you gain weight.
3. Get Sunshine, but Wear a Sunscreen Too

The summer season is indeed the best time to get vitamin D, and the best time to get sunshine during summers is early morning, i.e. between 6 am – 7 am. After that, if you have to step out in the sun, you should wear a high SPF and PA sunscreen to protect your skin from harmful UV rays. Sunrays are the strongest in the afternoon, so don't forget to apply sunscreen on your skin before going out.
4. Never Say 'No' to Breakfast
Missing breakfast has become a trend these days. I see many people on a daily basis who miss breakfast and eat outside because they love junk food. It doesn't matter how much the junk food satisfy your taste buds, at the end of the day it is unhealthy, and junk food should not be taken, especially for breakfast.
You must eat a healthy breakfast daily because, without proper nutrition first thing in the morning, your body wilts in the summer season, and can lead to dehydration, nausea, and fainting. Eating a breakfast high in protein and other essential minerals will not only prevent dehydration but will also boost your metabolism.
5. Stay Cool with the Exquisite Pop
This summer, quench your thirst with this incredibly delicious banana and date pops. To prepare for this cool drink, you will need:
• 6 large, sliced bananas
• 1 cup of chopped pitted dates
• 1 cup of non-fat milk
• 1 cup of yoghurt
• 2 teaspoons of honey
• 1 teaspoon of vanilla extract

Heat honey for 30 seconds. Now, put the bananas, milk, dates and yoghurt in a blender. Blend until smooth. Add vanilla and honey, and process to combine. Fill pop moulds, insert sticks, and freeze for 6 hours. Remove from the freezer keep it at room temperature for about five minutes before removing the pops from the moulds. Enjoy!
Follow these easy and highly effective tips to stay healthy this summer. Don't forget to have fun because summer is all about fun!