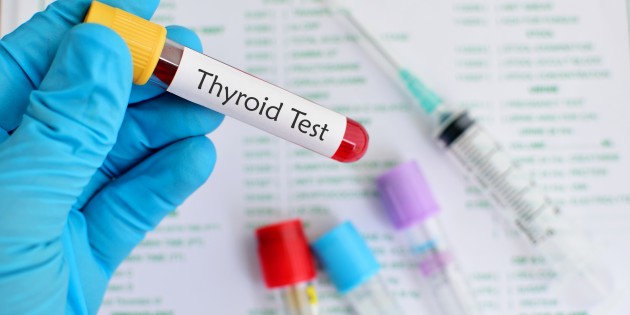 Types of Thyroid Disorders | Book Thyroid Test in Rohini
16-06-2017 | Posted By: Chhavi |
1186 View(s)
What is a Thyroid Gland?

The thyroid is a small, butterfly-shaped gland located in the lower front part of the neck just below Adam's apple.
The primary function of the thyroid gland is to regulate the metabolism of most of the body organs. It produces two major hormones, i.e. Triiodothyronine (T3) and thyroxine (T4) which stimulate the body's cells to produce new proteins and increase the amount of oxygen that our body uses. The thyroid gland controls the release of these hormones by determining the metabolic rate of the body organs.

What are the Types of Thyroid Disorders?
Broadly, Thyroid Disorders can be classified into four categories:
A.Hyperthyroidism
Too much thyroid hormone results in a health condition called hyperthyroidism. In this condition, a person experience symptoms like anxiousness, weight loss, tremors, and a sense of being on a high
B.Hypothyroidism
Insufficient hormone production causes hypothyroidism. The symptoms are the lack of energy, fatigue, depression and weight gain.
C.Goitre
It is characterised by swelling of the thyroid gland and is generally harmless.
D.Thyroid Cancer
It occurs mostly in people who have received radiation treatment to the neck and head in their life and is quite uncommon.
Also Read: Thyroid Disorders: An Overview of Symptoms and Causes
What is the Thyroid Function Test?
Thyroid Function Tests are a range of blood tests used to measure how efficiently the thyroid gland is working.
Thyroid Function Test is used to monitor the functioning of the thyroid gland, understand the cause of Hypothyroidism, detect inherited thyroid problems in newborn babies and monitor the functioning and efficiency of the thyroid gland in those who are getting treated for Hyperthyroidism.
Where can you get the Thyroid Function Test done?
If the Doctor has recommended you to go for a Thyroid Function Test, then you must go for the test without wasting any time.
You can easily get all the information about Path Labs and can book the test online with the help of online portals. For instance, if you want to look for Thyroid Function Test in Rohini, Delhi; then type "Thyroid Test in Rohini" in Google search box, and you will get several online portals which allow users to book Pathology Test online at discounted rates. You can also get the list of Path Labs in a particular location along with the complete address and cost of the test.
Here is a list of Pathology Labs for Thyroid Test in Rohini, Delhi:
| | | |
| --- | --- | --- |
| Pathology Lab/Diagnostic Centre | Address | Cost |
| | | |
| Doctor's Laboratory | B- 693, Avantika Market, Sector- 1, Rohini, Delhi | 650 |
| Path Care Lab | 222, Pocket- 2, Sector-24,Rohini. Delhi | 450 |
| Diagno Labs | D- 10/85, Sector-7, Rohini, Delhi | 440 |
| Genotix Path Lab | C-7/32, GF,  Sector-7, Rohini, Delhi | 650 |
| SMC Path Care | C-3/44, Sector- 5, Rohini, Delhi | 600 |
| Dr Lal Path Labs | 225, Pocket- D/7, Sector-6, Rohini, Delhi | 950 |
| Girwar Diagnostic Centre |  D-28, Inder Enclave Phase 2, Rohini, Delhi | 700 |
Why not  Book a Full Body Checkup from a NABL Accredited Lab at prices slightly more than what you would pay for just one Test from any of the Above mentioned Labs.