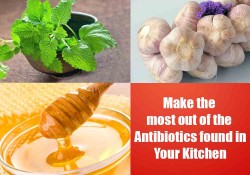 Make the Most of the Antibiotics from your Kitchen !
Visiting the doctor for minor medical issues is not always possible in our daily busy life, and we require a much easier way to get some relief in such cases. Most natural antibiotics are readily available in the kitchen and work miraculously well in protecting us from flu, cough and cold. The immunity system of the human body tends to weaken with regular use of antibiotic drugs which are available at the medical stores. One can readily avoid such side effects by using various kinds of naturally available antibiotic which work better and can be a great alternative from the chemical reactions of the antibiotic drugs. These different kinds of Antibiotics from your Kitchen mentioned below, come very handy in providing necessary prevention and remedy without many side effects.
The Best Antibiotics From your Kitchen:
• Garlic:
The high content of Allicin makes it rich in various medical properties. It also has a high quantity of Vitamin B6, C and magnesium and is low in calories.It helps us fight the common cold and cough and boosts the immunity system. Regular intake of Garlic also acts as a supplement and reduces the intensity of flu and the common cold. It controls the blood pressure levels, cholesterol and reduces the risk of various Cardiac diseases. It even helps in improving the strength of the bones and can help us to live a healthy life.
• Ginger:
The different goodness of ginger includes a good blood circulation in the body and it cures motion sickness too. It also reduces the pain and infection from cuts and bruises and also acts as a home remedy to fight out common breathing problems. It fights out stomach aches and improves the digestive system of the body.
• Yogurt:
Loaded with vitamins and other elements such as Zinc, Iodine and Prosperous which regulates our digestive system and improves the immunity of the body. It prevents high blood pressure and can help us recover faster after a heavy workout. It is also considered as a high protein food and bacteria which is good for us.
• Green tea:
Widely known good effects of green tea are that it has a high amount of antioxidants. The antimicrobial presence also makes it excellent for health. It also helps is burning down fat and acts as a great drink for the one who wants to get in shape very fast.
• Pomegranate:
It is considered as the best anti-ageing skincare and brings a glow to the skin when we see signs of dullness. It also brings shine to the hair and makes it healthy. It is enriched with vitamin A, C and E and various minerals like calcium, sodium and potassium are found in it. One can have regular quantities of it to maintain a good blood-sugar level.
• Cherries:
It helps us fight against cancer and other diseases. It is also high in antioxidants which are replaced by the free radicals in the body and prevents damage to cells. Anti-carcinogenic and anti-mutagenic compound are very useful in the prevention of cancer. Cherries along with other berries also give us relief from the pain of arthritis and gout-related problems.
• Honey:
Apart from its good taste, honey has several other good effects on our body too. It can be used in various cooking ideas, and it makes lovely dips which cannot be missed. The amazing healing qualities of honey include cleansing of the body and health and even works as an antiseptic. It also acts as a home remedy from head-to-toe ranging from an eye infection, healing for cuts, cure ailment and diseases and bring back the strength in the body. It also gives us relief from various digestive problems such as stomach ulcers, diarrhoea and indigestion.
• Blueberry:
The high content of Catechin helps in burning down abdominal fat. Prevents the skin from age-related wrinkles and is packed with vitamins E and C, niacin, riboflavin and folate. It also reverses some age-related memory loss problems and improves the motor skills too. It prevents cell damage and has anticancer qualities too.
Therefore the various home antibiotics available in the kitchen come very handy and protect us from various contaminations and diseases. They act as the antidote and increase the resistance and immunity power of the body. They are readily available in the kitchen and can be served to children also in delicious ways.