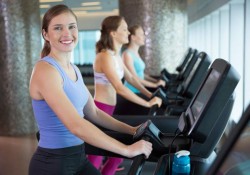 Be Careful on a Treadmill, it can hurt
22-11-2015 | Posted By: Admin |
1257 View(s)
The death of Facebook CEO Sheryl Sandberg's Husband, David Goldberg after falling off a Treadmill at a Mexican hotel GYM on Friday has put the spotlight on the potential risks of GYM equipment. Goldberg, 47, reportedly "cracked his head open" in the fall.
Orthopedics in Delhi hospitals say while fatal injuries from exercise equipment are rare, they often come across people who have suffered bruises, broken bones and sprains while working out. Electrical Equipment, doctors usually says the culprit " any technical glitch or sudden jerk during a Treadmill exercise, for example, can cause imbalance leading to injury," said by Dr Deepak Chaudhary, director of Safdarjung Sports Injury Centre.
He said people should undergo a full assessment of their cardiovascular and neurovascular health before beginning high-impact exercises such as running on a treadmill. " Those at risk of heart disease and illnesses such as epilepsy may be asked to avoid them because they can suffer from serious injury in an attack," the doctor added
Experts say there should be no compromise on quality while buying exercise equipment as even a minor glitch can have fatal consequences.
While there is no Indian data on the incident of exercise equipment-related injuries, a survey conducted in the US found that more than 60,000 people are injured every year. Treadmills, which are the most commonly used GYM equipment, were found to be responsible for nearly half of the injuries.
Treadmills are even more dangerous for children: Boxer Mike Tyson's four-year-old daughter got accidentally strangled by a treadmill cord at home, in 2009.
"Many People these days have treadmills at home and children also tries to work out on them. Parents must not allow them to do so without proper training and guidance," said Dr Rajeev Sharma, a Senior orthopaedic surgeon at Apollo Hospitals.
Doctors also warn against damage to the knee joint due to excessive treadmill exercise; Dr Sharma said damage to the knee joint is a serious complication seen in people who exercise excessively on a treadmill, " Knee bears the body's weight and is most susceptible to injury. Too much exercise and running are known to cause wear and tear. One should do cycling and swimming exercises instead," he added.
According to Dr Piyush Girdhar, the Senior orthopaedic surgeon at BLK super-speciality hospital, many more people are hitting the GYM now as awareness about healthy living has increased. " However there is the lack of awareness on the need of proper physical training and safe practices. Most neighbourhood gyms are run by untrained people who cannot guide," he said.
Rishabh Sharma, a fitness enthusiast, said that people have started going to GYM and installing equipment at home as public spaced for physical activity have been shrinking. "The news about Goldberg's death due to the head injury during exercise is frightening. At home, my 10-year-old son often tries to speed up the treadmill to match my speed. I never really thought it could cause a fatal injury. I will be careful now."
Source-TimesofIndia Dated 6th May 2015