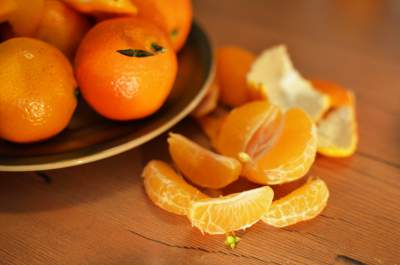 8 Mind-Blowing Benefits of Oranges !
30-06-2017 | Posted By: Rajni Joshi |
2811 View(s)
There are a lot of health benefits of oranges, and this is what we are going to talk about in this article. Studies show that orange works well in strengthening your emotional body, encouraging a feeling of joy, good health and cheerfulness. Who doesn't love this delicious and juicy fruit? You can consume oranges in a number of ways; you can prepare orange juice, you can try making tasty yummy tarts and a lot of other things! There is so much to try out with this beautiful fruit. The colour orange is itself so vibrant and inspiring that we are encouraged to grab it when we see it.
But hey! Apart from the taste and appearance of this vibrant orange colour fruit, there are a lot of health benefits of oranges! Let us just quickly discuss the top 8 benefits of oranges.

The Amazing Health Benefits of Oranges
1. Oranges are good for Digestion:
Oranges contain fibre in a high concentration which helps you to digest the food quickly. It also helps in releasing the digestive juices or enzymes which result in efficient digestion of the food. So isn't it an easy way to have better digestive health?

2. Oranges help in preventing Diabetes
Yes, you heard it Right! Oranges have low calories, and thus you can consume them daily. It can balance the sugar levels in your blood very effectively. So let's love this fruit a bit more?
3. Oranges can work well against Cancer
Surprised? We know you might be! But it is true! Phytochemicals present in oranges can help protect against cancer.
Oranges and most citrus fruits usually contain a compound called D-limonene which is believed to help fight various varieties of cancer such as skin, lung, breast, colon and stomach.

4. Oranges can fight against Viral Infection
Viruses spread in many ways, depending on the virus. It is not possible to prevent all the viruses, but we can at least try to reduce the risk of contracting a virus? And why not when an orange can help for the same? Various studies suggest that oranges contain flavonoids and polyphenols that help you fight against viral infections.

5. Oranges can prevent kidney diseases
Love orange juice? You are going to love it more after reading this. If you drink orange juice regularly, it can prevent many kidney diseases. Not only juice but even if you consume oranges daily, you can lower the risk of developing kidney stones.
We would suggest you drink juices in moderate amounts as fruit juices are rich in high sugar content, that can cause tooth decay, as well as the high acid content present in juices, can wear away enamel if you consume in excess.
6. Oranges are good for Vision
Well, it is believed that this delicious citrus fruit may help improve the health of your eye tissue as it contains Vitamin C.A study suggests that it is good for seniors to eat oranges as doing so can help improve their eyesight.Studies indicate that elderly people who eat fruits and vegetables rich in vitamin c are less likely to develop cataracts. So let us treat our grandparents with oranges and help them improve their vision?

7. Oranges Eliminate Bad Breath
Oranges have so many health benefits and are ideal for having them as snack or breakfast. This fruit is so good at refreshing your breath as vitamin c present in oranges can help prevent bad breath. Orange peel tea is found to be useful as well as helpful in maintaining good oral health. Try having one cup of orange tea every day for a month and see what it does! It will reduce the bad breath, as well as your oral hygiene, will improve.
Now try to eat an orange, every time you eat onion so as to get rid of that embarrassing bad breath.
8. Oranges improve your Immune System
Oranges contain vitamin A, which is an essential nutrient for immune function. Vitamin A plays a significant role in the development of new white blood cells, which are the immune cells that help circulate in your bloodstreams to identify as well destroy the harmful pathogens. It also promotes activation of your white blood cells to enable them to fight off infection. Vitamin c present in orange juice is perfect for the immune system, not only this it also boosts your white cell function.
.
Oranges have so many health benefits; it helps improve the digestion as well it can help prevent many health problems including kidney problems, cancer and diabetes. Oranges can also contribute to improving your immune system.
Oranges are also helpful if you suffer from the problem of bad breath. And as we just mentioned oranges are said to be good for your vision, and it helps older adults to improve their eyesight. These health benefits of oranges are proven to be very effective. Try all these tips and see the beautiful, healthy changes for yourself!