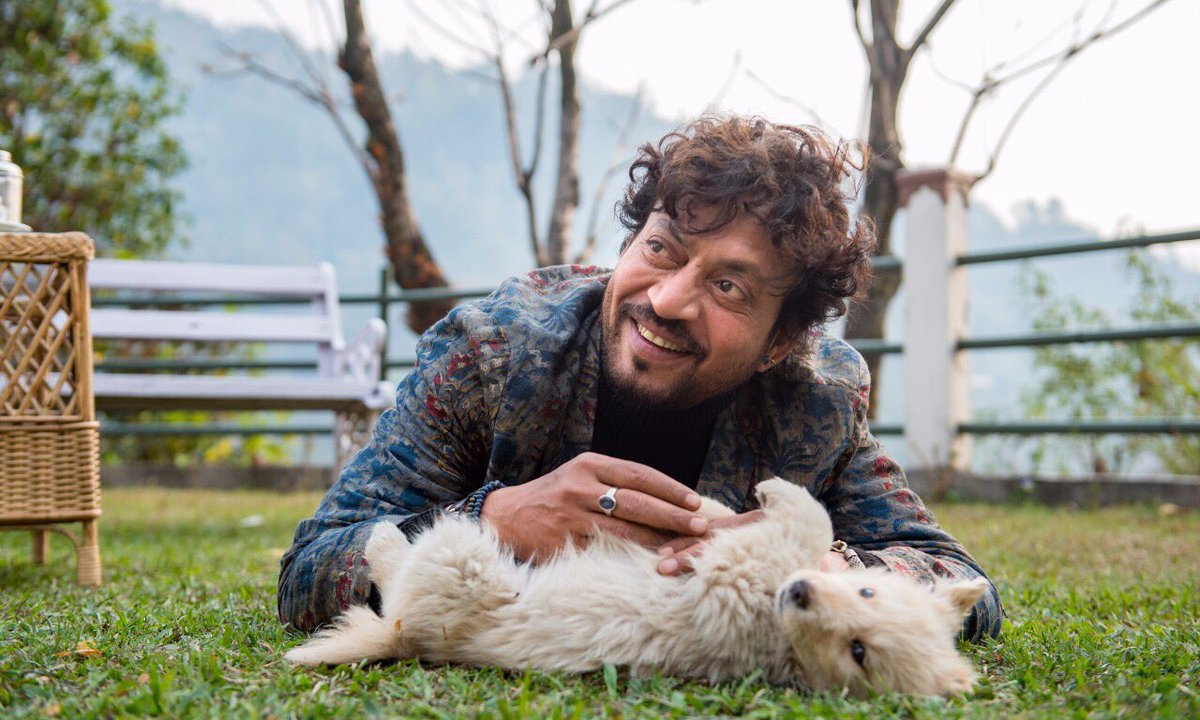 Irrfan Khan is fighting neuroendocrine cancer; posts a happy picture on Twitter
16-07-2018 | Posted By: Chhavi |
2926 View(s)
Irrfan Khan is a Bollywood actor known for his phenomenal performance in award-winning movies like 'Lunch Box', 'Madaari', 'Piku' and so on. He is currently undergoing treatment for a rare type of cancer, called neuroendocrine tumour in London. In March, Irrfan Khan took to Twitter to break the news of his illness. He revealed in the tweet that he is diagnosed with neuroendocrine cancer, which is a rare type of cancer. His fans and other celebrities also took to Twitter to post wishes for his quick recovery.

The 51-year old star posted a picture on Twitter on Sunday afternoon which went viral within a few hours. In the photo, Irrfan Khan can be seen wearing a yellow T-shirt standing next to a glass window with earphones around his neck and a bright smile on his face.

Image Courtesy: Twitter
Last month, Irrfan Khan won the IIFA for Best Actor for his role in the movie Hindi Medium. His team accepted the trophy on his behalf. However, Irrfan Khan took to Twiter to thank IIFA and wrote, "Thank you to IIFA and our audience who have been part for my journey." Irrfan Khan also won the special Icon Award recently at the closing ceremony of the London Indian Film Festival (LIFF). He accepted the award privately after two of his films were screened at the festival this year Mostafa Sarwar Farooki's 'Doob: No Bed of Roses' and Anup Singh's 'Song of Scorpions'.
The 51-year old Bollywood actor will soon be seen in the movie Karwaan, which also marks Dulquer Salmaan's debut in Bollywood. The film will be released on August 3, 2018. We hope the movie does well and we see more pictures of Irrfan Khan smiling. The news of Irrfan Khan being diagnosed with neuroendocrine disorder made everybody sad.
The famous actor is loved by all for his acting skills and 'down-to-earth' persona. The fact that the cancer is of a rare type made him and his fans more nervous. Initially, it was revealed that the actor is suffering from a 'rare' disease, and nobody knew what the disease was. Later, the actor took to Twitter to reveal that he has been diagnosed with a neuroendocrine tumour, a rare form of cancer that has the potential to target various parts of the body as well. Let us know more about this rare type of cancer.

What is a Neuroendocrine Cancer?
An endocrine tumour is known as a mass that begins in different parts of the body that produce and release hormones. Because an endocrine tumour develops from cells that produce hormones, the tumour can also produce hormones and can cause severe illness.
A neuroendocrine tumour is a rare type of a tumour that begins in the hormone-producing cells of the body's neuroendocrine system.

Neuroendocrine cells are found in the body in organs such as the gastrointestinal tract, including the intestines and stomach. Neuroendocrine cells perform many functions, such as controlling how quickly food moves through the gastrointestinal tract and regulating air flow through the lungs.
There are generally three types of neuroendocrine tumours, namely pheochromocytoma, Merkel cell cancer, and neuroendocrine carcinoma.

What are the Symptoms of a Neuroendocrine Cancer?
Generally, people do not develop any symptoms, and when symptoms occur, they can vary based on the location of a tumour.
Some of the signs and symptoms of a neuroendocrine cancer are:
1. Fever
2. Headaches
3. Rapid pulse
4. Heart palpitations
5. Firm, shiny lumps on the skin
6. Changes in the glucose levels in the body
7. Diarrhoea
8. Loss of appetite
9. Unexplained weight loss or gain
10. Unusual bleeding or discharge
11. Night Sweats
If you experience any of the signs & symptoms as mentioned above, consult a doctor right away.
How is a Neuroendocrine Cancer Diagnosed and Treated?
The doctor first conducts a physical examination and take the patient's medical history. Doctors use several tests to diagnose a tumour.  Tests are also conducted to see if a tumour is cancerous and if so the doctors see if a tumour has spread to other parts of the body from where it started. Imaging tests are generally used to see if a tumour has spread. Most of the times, a biopsy is conducted to know whether an area of the body has cancer.
Some of the tests which may be conducted to diagnose a tumour are:
1. Blood Tests
2. Urine Test
3. X-Ray
4. Computed Tomography (CT or CAT) scan
5. Biopsy
6. Molecular testing of a tumour
7. Positron emission tomography (PET) or PET-CT scan
8. Magnetic resonance imaging (MRI)
The treatment options for this rare type of cancer depend on several factors, including the type of a tumour, the stage, possible side effects, and the patient's overall health and preferences. Treatment options for a neuroendocrine tumour include surgery, radiation therapy, chemotherapy, and medications.

A neuroendocrine tumour is very rare, and the best way to protect yourself from this rare disease is to eat a healthy diet, exercise, stay away from alcohol and tobacco, and go for a regular health checkup. Life seems dull when we aren't healthy. It is best if we take precautions to prevent health conditions. So book a health checkup package now to know your overall health state and keep health diseases at bay.