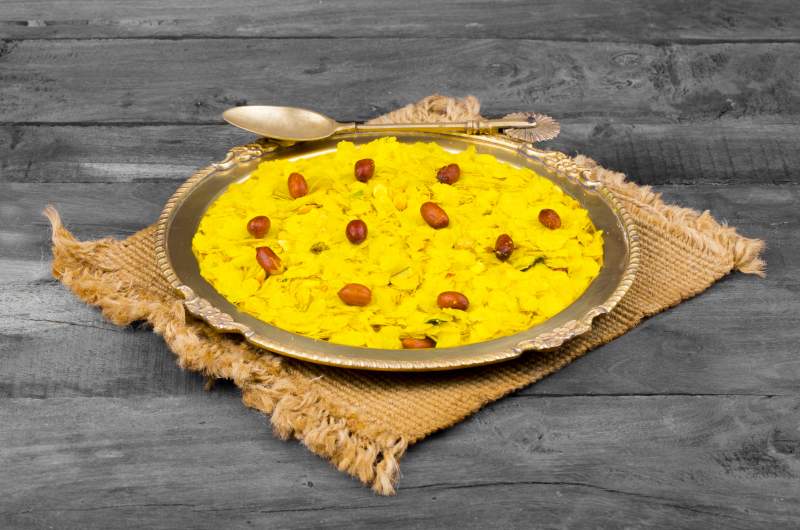 Poha –The Tasty and Nutritious Breakfast for One and All
01-08-2017 | Posted By: Vivek Singh |
6580 View(s)
When we start the day, it is important to have something Healthy, but we keep wondering about the Best options and many times are not able to find the perfect match and end up repeating the same old Bread Toast with butter or jam or maybe an omelette which at times becomes all the more predictive and boring. Here we present an interesting and Healthy option which can help kick-start your Day in the right Fashion and Guess what- It is None other than our very own Poha.
What is Poha
Poha is nothing but flattened rice also know as Beaten Rice, and we get it when rice is flattened into flat dry flakes. When these flakes are added to any hot or cold liquid, they swell in size and become up to four times thicker than a normal Rice grain. This easily digestible form of Rice is immensely popular and finds great usage as a Fast Food or a Snack.

How can it be Eaten
Poha is generally eaten raw by immersing it in plain water, or Milk sprinkled with salt and sugar to appeal to our taste Buds. It can also be fried in oil with nuts, raisins, cardamoms, and other spices. Poha can be made into a porridge or paste, depending on the proportion of water added. At a lot of places in India, especially the villages Poha is eaten raw with Jaggery.
For a lot of Indians, From small children to office Goers Poha serves as a nutritious Breakfast or Bruch and sometimes even dinner. Poha is easy to cook and can be made into a meal within minutes. It is first, washed with water, soaked for 10 minutes and then strained by using a strainer, and the residual Poha is ready for use. The Nutritional Value of Poha can be further increased by the addition of tasty and healthy veggies, Sprouts, Soya nuggets, chillies, potatoes, coriander and even boiled eggs. Poha can be fried with Chilly and Spices to make it red hot delicious and can be eaten with Mint Chutney or Ketchup and even Curd too. Poha offers a number of options to serve to different taste buds. Raw Poha can be stored for up to two to three months under proper storage conditions.
The Many Health Benefit of Poha

1. Rich in Carbohydrates
The composition of Poha is as under
Carbohydrates 76.9 %
Fats 23.1 %
Carbohydrates are essential to help our body store energy, and perform various other functions. However getting your carb intake from healthy sources is vital and Poha is one healthy source. So Nothing better to start the Day as it helps in giving the required energy in the form of Carbs. Traditionally Peanuts are added to Poha which makes it rich in Protein. To make it even better add fresh tomatoes and carrots and you are ready with a delicious Breakfast rich in Vitamin A and E, C and anti-oxidants. What a Way to Start the Day!
2. Great for Diabetics
Poha is rich in Vitamin B and is supposed to be great for Diabetics.It promotes the slow release of sugar into the bloodstream and keeps you full for a longer time. A single serving of Poha is good enough to keep you going without hunger pangs and make you stay away from Unhealthy food and sweets to satisfy your hunger pangs.

3. Easily Digestible
Poha is the form of rich which is easily digestible and quite light on the stomach and does not give that bloated feeling. Thus serving as a perfect Filling Dish to start the day
4. Very Low on Gluten
Poha is made of rice which is healthy and Gluten-free devoid of any preservatives. It can serve as an alternative to those who are allergic to wheat products.
5.Skin Care
The cooking medium used-Ghee, Mustard oil or Coconut oil help to keep the joints supple and are good for the skin.

6. Healthy Heart
The appearance and Taste of Poha can be further enhanced by adding Curry Patta which is a rich source of carbohydrates, Fiber, calcium, phosphorous, irons and vitamins C, Vitamin A, Vitamin B and Vitamin. It thus helps to keep the Heart Healthy and keeps us away from infections.
7. Reduces Iron Deficiency
Poha helps a great deal in preventing iron deficiency or anaemia especially in children, Pregnant and lactating women as it contains 20 mg of iron in every 100 g raw rice flakes.
8.Poha for Upset Stomach
A widely prevalent home remedy for upset tummy is to immerse some rice flakes in a bowl containing cold water which is then flavoured with salt, sugar, lime juice and a pinch of black pepper.
9 Good for Bone Health
Having Poha with curd helps in increasing the  calcium intake in the body making the Bones Stronger
Poha serves as a Tasty and easy to Digest Food which has a lot of health benefits, making it a perfectly wholesome, nutritious and delicious Meal for one and all in the family. Its numerous benefits and easy to cook option has made it immensely popular not just in our country but the world over.
Suggested Read:Poha Nutrition Value And Its Fascinating Health Benefits